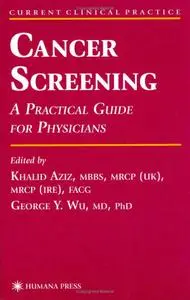 Cancer Screening: A Practical Guide for Physicians (Current Clinical Practice Series)
Author:
Pramod, M.D. Srivastava, Khalid Aziz, George Y. Wu
ISBN:
0896038653
Publisher:
Humana Press; 1e
Format:
PDF - 324 pages
Book Description
…highly experienced clinicians and researchers describe screening techniques for a wide variety of cancers. Newington VA Medical Center, CT. Provides a review of cancer screening for primary care physicians, internists, and residents. Reviews all aspects including cost effectiveness, biology, epidemiology, and sensitivity. Details present and future uses of molecular genetics and new radiological methods.
The link is here :
http://rapidshare.de/files/36188715/CS_PGP_CCP.rar
MD5: 1128B5FE64EE09835BA280AD6F1E8A20
2.57 MB and
PW = kapioskanis
NOTE : Other Stuff too in folder
http://rapidshare.de/users/OSZ5RR
with this
F-PW=OSZ5RR
PS
1) There are 12 NEW!!! MD.Books
2) Please, NEED points for keeping alive the Folder.
3) Thank you, for NOT mirroring, in advance.