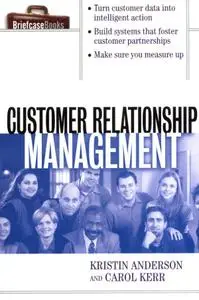 Kristin L. Anderson, Carol J. Kerr, «Customer Relationship Management (The Briefcase Book Series)»
McGraw-Hill | ISBN 0071379541 , 0071394125 | 2002 | 164 Pages | 2.29 Mb
This reader-friendly series is must read for all levels of managers All managers, whether brand-new to their positions or well established in the corporate hierarchy, can use a little brushing-up now and then. The skills-based Briefcase Books Series is filled with ideas and strategies to help managers become more capable, efficient, effective, and valuable to their corporations. As customer loyalty increasingly becomes a thing of the past, customer relationship management (CRM) has become one of today's hottest topics. Customer Relationship Management supplies easy-to-apply solutions to common CRM problems, including how to maximize impact from CRM technology, which data warehousing techniques are most effective, and how to create and manage both short- and long-term relationships. Customer Relationship Management provides easy-to-apply solutions and strategies for establishing meaningful bonds with your customers and turning them into reliable, lifelong partners.