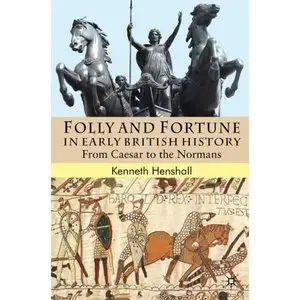 Folly and Fortune in Early British History: From Caesar to the Normans
Publisher: Palgrave Macmillan | ISBN: 0230555209 | edition 2009 | PDF | 360 pages | 3,1 mb
With its prime focus on the human factor in history, this book examines the role of foolishness in the unfolding of major events in Britain, particularly invasions, from Caesar's expeditions to the Norman Conquest. Many historians believe that foolishness in a bygone age cannot be meaningfully assessed, but this book does not accept that view.Folly and Fortune in Early British History attempts to restore human beings, with all their vagaries, to a central role in history. The emphasis is on human foolishness as a driver of history, including epochal turning-points. Many historians believe it impossible to evaluate folly in a bygone era, but Henshall disagrees, and assesses key actions from the perspective of Chaos Theory — that is, the degree of predictability of outcome. This also highlights the occasional role of luck. The context is Britain between 55 BC and 1066. Among others, the actions of Caesar, Boudica, Vortigern, Aethelred, and Harold Godwineson are examined, and popular assumptions about the wisdom or foolishness of certain historical figures are shown to be unjustified. There are also question sections about the outcome of keyevents, the aim of which is to encourage readers to put themselves in those historical events and consider alternative actions.