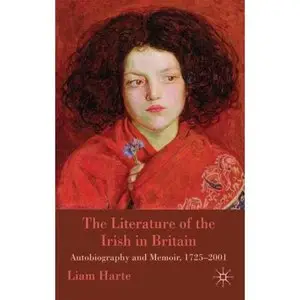 The Literature of the Irish in Britain: Autobiography and Memoir, 1725-2001
Publisher: Palgrave Macmillan | ISBN: 1403949875 | edition 2009 | PDF | 256 pages | 1,2 mb
Examines the autobiographical literature of the Irish in Britain from 1700 to the present day, drawing on the work of a wide range of writers from a diversity of backgrounds and social classes.This anthology is the first critical survey of an unjustly neglected body of literature: the autobiographies and memoirs of writers of Irish birth or background who lived and worked in Britain between 1725 and the present day. Woven around annotated extracts from the work of over sixty autobiographers, both canonical and obscure, it challenges received views ofthe Irish in Britain as an unliterary people who cleaved more to the spade than the pen. Combining literary and historical perspectives, Liam Harte illustrates the diverse autobiographical modes in which the 'story' of Irish migration to Britain has been narrated, and shows how these richly various testimonies confound dogmatic equations of Irish exile with suffering and victimhood. Extensively researched and imaginatively constructed, this ground-breaking critical study illuminates the changing self-representations and multi-layered social realities of Irish migrantsin Britain across three centuries. Among the authors discussed are Mary Davys, Laetitia Pilkington, John Denvir, Tom Barclay, W. B. Yeats, Patrick MacGill, Elizabeth Bowen, Sean O'Casey, Louis MacNeice, Alice Foley, Dónall Mac Amhlaigh, Bob Geldof and William Trevor.