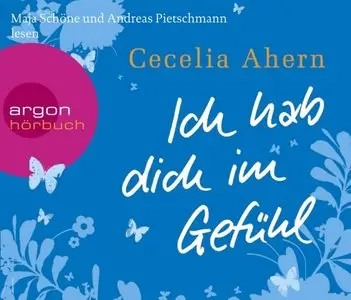 Cecelia Ahern - Ich hab dich im Gefühl
Genre: Roman | Time: 05:22:44 | Publisher: Argon Verlag | ISBN: 3839890357 | 1. Oktober 2010
Language: Deutsch | Audiobook in MP3 / 128 kbps | 304.5 MB
Beschreibung:
Es hat mir große Freude bereitet dieses Buch zu hören. Mich haben bei diesem Buch besonders die liebevoll beschriebenen Figuren beeindruckt und ich habe richtig Lust verspürt, selbst solche Menschen kennenzulernen. Die Geschichte zwischen Joyce und Justin ist wirklich spannend und man fiebert durchgängig mit den beiden mit. Aber auch die Szenen, in denen Joyce mit ihrem Vater unterwegs ist, mochte ich besonders gern. Da treffen ganz unterschiedliche Generationen aufeinander und obwohl sie so verschiedenen sind, passt doch alles so gut zusammen. Die beiden sind wirklich herrlich zuammen.
Joyce überlebt nur knapp einen Unfall - und weiß, dass sie ab jetzt ganz anders leben will. Doch irgendetwas ist seltsam: Sie kann auf einmal fremde Sprachen und erinnert sich an Dinge, die sie gar nicht erlebt hat. Justin ist als Gastdozent in Dublin. Er ist verdammt einsam, würde das aber nie zugeben. Als er eine junge Frau trifft, die ihm ungewöhnlich bekannt vorkommt, ist er verwirrt - er kommt einfach nicht drauf, woher er sie kennen könnte …
Download Cecelia Ahern - Ich hab dich im Gefühl:
filesonic.com
|
wupload.com
|
uploaded.to
Pass: avaxhome.ws
Mehr Audiobucher von mir findet Sie in
My Blog
If you'll find that my links are dead please let me know through the Private Messages.
Please DO NOT MIRROR