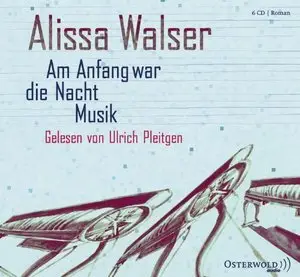 Alissa Walser - Am Anfang war die Nacht Musik
Genre: Roman | Time: 07:28:35 | Publisher: Osterwoldaudio | ISBN: 3869520299 | 10. Februar 2010
Language: Deutsch | Audiobook in MP3 / 160 kbps | 529.09 MB
Beschreibung:
Wien, 1777. Mesmer ist der wohl berühmteste Arzt seiner Zeit, als man ihm einen scheinbar hoffnungslosen Fall überträgt: Er soll das Wunderkind Maria Theresia heilen, eine blinde Pianistin und Sängerin. Als Franz Anton Mesmer das blinde Mädchen in sein magnetisches Spital aufnimmt, ist sie zuvor von unzähligen Ärzten beinahe zu Tode kuriert worden. Mesmer ist überzeugt, ihr endlich helfen zu können und hofft insgeheim, durch diesen spektakulären Fall die ersehnte Anerkennung der akademischen Gesellschaften zu erlangen. Auch über ihre gemeinsame tiefe Liebe zur Musik lernen Arzt und Patientin einander verstehen und bald gibt es erste Heilerfolge …
In ihrer hochmusikalischen Sprache nimmt Alissa Walser uns mit auf eine einzigartige literarische Reise. Ein Roman von bestrickender Schönheit über Krankheit und Gesundheit, über Musik und Wissenschaft, über die fünf Sinne, über Männer und Frauen oder ganz einfach über das Mensch sein.
Download Alissa Walser - Am Anfang war die Nacht Musik:
filesonic.com
Pass: avaxhome.ws
Mehr Audiobucher von mir findet Ihr in
My Blog
If you'll find that my links are dead please let me know through the Private Messages.
Please DO NOT MIRROR