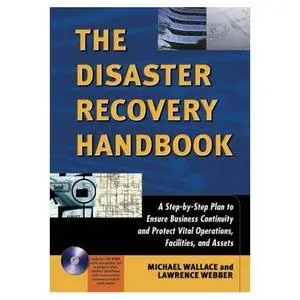 Michael Wallace and Lawrence Webber,
«Disaster Recovery Handbook: A Step-by-Step Plan to Ensure Business Continuity and Protect Vital Operations, Facilities, and Assets»
AMACOM | ISBN: 0814472400 | July 2004 | PDF | 416 Pages | 2,6 MB
NOTE: Although may be published before this is the first time (to my knowledge) it has been available as a native PDF file
Without careful planning, organizations often do not survive major interruptions in the operation of their business. The Disaster Recovery Handbook gives readers proven processes and techniques to develop a disaster recovery plan and protect their organizations in the face of extraordinary circumstances.
The book gives detailed instructions for:
• Assembling a recovery team
• Building an interim plan
• Setting up an emergency operations center
• Recovering vital records
• And more.
Filled with practical solutions and immediately usable tools, The Disaster Recovery Handbook gives readers everything they need to keep their businesses running as smoothly as possible after a disaster.
http://rapidshare.com/files/2185202/0814472400.rar