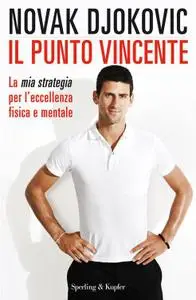 Novak Djokovic - Il punto vincente. La mia strategia per l'eccellenza fisica e mentale (2014)
Italian | Sperling & Kupfer | 2014 | ISBN: 8820055813 | 154 pages | True PDF | 5 MB
Nel 2011 Novak Djokovic è stato protagonista di quella che i giornalisti sportivi hanno chiamato "la migliore stagione nella storia del tennis": ha vinto 10 titoli, 3 Grandi Slam e 43 match consecutivi. Eppure, fino a due anni prima, riusciva a malapena a completare un torneo. Come ha fatto un giocatore tormentato da dolori, difficoltà respiratorie e infortuni sul campo a diventare improvvisamente il numero uno al mondo? La risposta è sorprendente: ha cambiato la sua alimentazione. "Il punto vincente" guida i lettori lungo un piano in 14 giorni per eliminare lo stress, perdere i chili di troppo e diventare più sani, più forti e più lucidi in ogni momento della vita, grazie a consigli pratici, menù settimanali e deliziose, semplici ricette. Non c'è bisogno di essere un superatleta per cominciare a sentirsi meglio.
If you like this release please support Developer / Publisher and BUY it.
If you'll find that my links are dead please let me know through the Private Messages.
Please DO NOT MIRROR

>>> Visit My Blog Here <<<