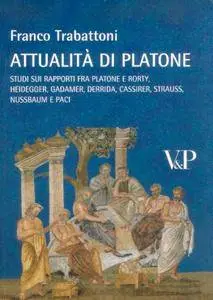 Franco Trabattoni - Attualità di Platone. Studi sui rapporti fra Platone e Rorty, Heidegger, Gadamer, Derrida, Cassirer, Strauss, Nussbaum e Paci (2009)
Italian | Vita e Pensiero | 2009 |PDF | Pages 352 | ISBN: 8834318226 | 6 MB
La filosofia di Platone costituisce un punto di riferimento primario per tutta la storia del pensiero occidentale, e il secolo appena trascorso non fa eccezione. Numerosi e importanti filosofi del Novecento non solo hanno sentito la necessità di confrontarsi con Platone, ma hanno anche concesso largo spazio al pensiero platonico e alla nozione di "platonismo" all'interno delle loro elaborazioni teoriche. Questo confronto, soprattutto nei contesti più influenzati dalla speculazione di Nietzsche, ha assunto assai spesso la forma della critica, del distacco e, a volte, anche della ripulsa. Lo scopo di questo libro consiste nel mostrare da un lato che questa ripulsa si basa per lo più su un'immagine di Platone e del platonismo forzata in senso dogmatico e quasi formulare, dall'altro che il pensiero di Platone, se correttamente inteso, non ha mai cessato di costituire l'orizzonte ultimo entro il quale possono e devono essere posti i problemi filosofici che ancora interessano l'uomo contemporaneo.
Per scaricare Altri LIBRI in ITALIANO CLICCA QUI
>>> Visit My Blog Here <<<
If you like this release please support Developer / Publisher and BUY it.
If you'll find that my links are dead please let me know through the Private Messages.
Please DO NOT MIRROR