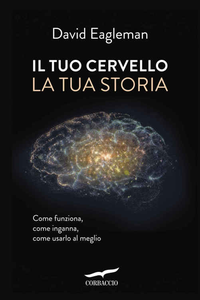 David Eagleman - Il tuo cervello, la tua storia. Come funziona, come inganna come usarlo al meglio (2016)
Italian | 2016 | 235 pages | ASIN: B01E764S5U | AZW3/MOBI/PDF | 15 MB
Chiuso nel silenzio e nell'oscurità della scatola cranica, il nostro cervello è lo strumento che abbiamo a disposizione per percepire e orientarci nel mondo e per costruire la realtà nei suoi colori, sapori, dimensioni, è il computer che elabora le nostre decisioni, il laboratorio che forgia la nostra immaginazione, il centro che ci mette in contatto con gli altri in una rete di relazioni sociali. Questo libro racconta come l'esperienza della realtà dà forma al nostro cervello e come il nostro cervello modella la realtà e la vita che viviamo. Il neuroscienziato David Eagleman ci guida in un viaggio sorprendente alla ricerca di qualcosa che non pensavamo di trovare fra miliardi di cellule e di impulsi elettrici: il nostro io.
Per scaricare Altri LIBRI in ITALIANO CLICCA QUI
>>> Visit My Blog Here <<<
If you like this release please support Developer / Publisher and BUY it.
If you'll find that my links are dead please let me know through the Private Messages.
Please DO NOT MIRROR