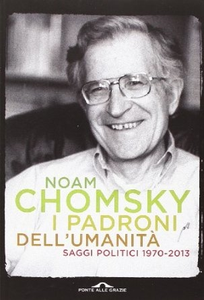 Noam Chomsky - I padroni dell'umanità. Saggi politici 1970-2013 (2014)
Italian | Ponte alle Grazie | 2014 | ISBN: 8868330628 | 264 pages | EPUB/PDF | 5 MB
In questa raccolta - che antologizza oltre quarant'anni di lotte e di pensiero - è il rigore dell'analisi a trascinare sul banco degli imputati i "padroni dell'umanità" e le idee che per decenni, anzi secoli, hanno giustificato lo sfruttamento capitalistico e le guerre, dal Vietnam al Nicaragua, dal Centro America alla Serbia e all'Iraq. Principali accusati restano gli Stati Uniti: un'economia ufficialmente liberista ma in realtà sovvenzionata dallo Stato, una visione "messianica" del proprio ruolo nel mondo, una società dominata dalle multinazionali, la manipolazione dell'opinione pubblica per costruire un "consenso senza consenso" e piegare le masse "stupide" alla volontà di pochi "illuminati", la deroga al principio di universalità che vorrebbe regole uguali per tutti nel diritto internazionale, l'indifferenza e anzi l'occultamento della catastrofe ambientale: sono questi per Chomsky gli elementi fondanti di un potere non solo statunitense ma globale, che agisce per assoggettare i popoli e fare gli interessi di pochi, con il consenso e il belletto intellettuale fornito dalle tecno-intellighenzie di turno. Questo universale richiamo morale è il fiume carsico di tutte le opere di Chomsky, una delle voci più autorevoli dei nostri tempi, in grado come pochissimi altri di pronunciare verità indocili e di indicare la strada di un vero cambiamento. Introduzione di Marcus Raskin.
Per scaricare Altri LIBRI in ITALIANO CLICCA QUI
>>> Visit My Blog Here <<<
If you like this release please support Developer / Publisher and BUY it.
If you'll find that my links are dead please let me know through the Private Messages.
Please DO NOT MIRROR