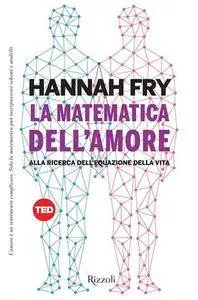 Hannah Fry - La matematica dell'amore. Alla ricerca dell'equazione della vita (2015)
Italian | Rizzoli | 2015 | ASIN: B00YAL7GT8 | 149 pages | AZW3/PDF | 10 MB
Trovare la persona giusta non è semplice, ma è almeno possibile? O sono più realistici i calcoli del matematico Peter Backus – un single di vecchia data – che ha stimato che il numero delle civiltà aliene nella nostra galassia supera quello delle sue possibili partner? In qualsiasi modo la pensiate, una formula segreta dell'amore esiste e per una volta la chimica non c'entra: è tutta questione di numeri. Per esempio, la teoria dei giochi massimizza le nostre probabilità di conquistare chi ci piace; quella dell'arresto ottimale ci aiuta a trovare la persona della nostra vita; con i modelli di Murray applicati alle dinamiche dei litigi possiamo evitare il divorzio… E possiamo anche rispondere a domande fondamentali: qual è il limite oltre il quale nella vita di coppia è meglio non scendere a compromessi? Che cosa, esattamente, ci fa trovare attraente qualcuno? Perché, soprattutto sui social network, essere bellissimi non è un vantaggio? Brillante, arguto e accessibile a tutti, questo libro ci mostra i modelli ricorrenti grazie ai quali possiamo capire e prevedere moltissimi fenomeni, compreso il modo in cui cerchiamo e amiamo la nostra metà, e ci offre i suoi consigli (matematicamente verificati) per trovare quella persona così speciale per noi.
Per scaricare Altri LIBRI in ITALIANO CLICCA QUI
>>> Visit My Blog Here <<<
If you like this release please support Developer / Publisher and BUY it.
If you'll find that my links are dead please let me know through the Private Messages.
Please DO NOT MIRROR