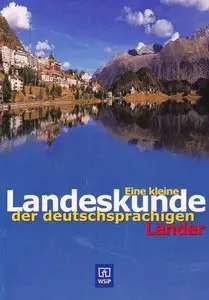 Eine kleine landeskunde der deutschsprachigen länder
Publisher: WSIP | 2004 | ISBN-10: 8302091979 | ISBN-13: 978 8302091971 | Polish/German | PDF | 280 pages | 83.22 Mb
Mała lekcja krajoznawstwa państw niemieckojęzycznych (Niemiec, Austrii i Szwajcarii) to kolejna książka autora nowego repetytorium bardzo warta polecenia. Podobno wydanie to (piąte) zostało o wiele bardziej skrócone w przeciwieństwie do starszych wydań, ale sam nie wiem w jakim stopniu. Tytuł w całości po niemiecku, ale układem treści przywodzi na myśl repetytoria tematyczno-leksykalne z Wagrosu. Dlaczego? Na początku każdego działu znajduje się bardzo krótki tekst (czcionka jest niemalże olbrzymia) pod spodem lista trudniejszych słówek występujących po kolei w tekście a następnie wiele ciekawych ćwiczeń i zadań związanych z danym tematem (np. krzyżówki i diagramy). Dużym atutem książki jest przepiękny layout, wiele ładnych rysunków wykonanych przez Marka Ronę. Ale to jeszcze nie wszystko. Na końcu książki znajduje się Quiz, który sprawdza wiedzę o krajach DACH. Przydatny do przygotowywanie się do różnych konkursów. Poza tym ostatnie strony są kolorowe, wydrukowane na błyszczącym papierze. Widnieją na nich piękne fotografie z Niemiec i alpejskich krajów. Dodatkowo do książki dołączone są trzy małe mapy fizyczne, gdzie zostały zaznaczone najważniejsze jednostki fizjogeograficzne.