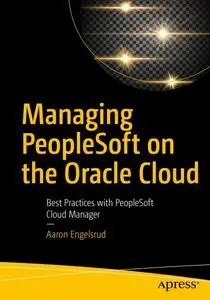 Managing PeopleSoft on the Oracle Cloud: Best Practices with PeopleSoft Cloud Manager by Aaron Engelsrud
English | November 18th, 2019 | ISBN: 1484245458 | 295 pages | EPUB | 19.08 MB
Transition from hosting your PeopleSoft applications in a traditional, on-premises data center to hosting those same applications in the Oracle Cloud infrastructure. This functional and technical book helps you install and support PeopleSoft Cloud Manager and makes the case for moving applications to the Oracle Cloud technology stack. You will learn about the use and cost of PeopleSoft instances in the cloud and how to configure your PeopleSoft environments to take advantage of the Oracle Cloud platform.