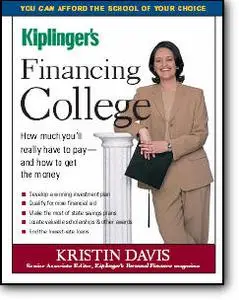 Kristin Davis, «Financing College: How Much You'll Really Have to Pay and How to Get the Money» (3rd Edition)
Dearborn Financial Publishing | ISBN 0938721895 | 2001 Year | PDF | 1,31 Mb | 310 Pages
This summer's headlines shouted news that students–and their parents–already knew. College costs have jumped as much as 6 percent–more than twice the inflation rate–at most schools. The question of how to finance a college education is now more immediate than ever. Though helpful new guides have proliferated, Davis' advice should win instant attention and respect because she is an editor at Kiplinger's Personal Finance Magazine. Packed with informative sidebars, charts, and graphs that are typically Kiplinger's, her book considers how and when to begin saving for college, how to "win" college aid, and whether to borrow money. Davis warns against the scholarship "mirage" and discusses the financial aspects of choosing which college to attend. She also suggests alternatives, such as the military and cooperative education, and examines such innovations as paying tuition in installments or prepaying to lock in costs. A final chapter looks at financial services for students and ways to minimize student living expenses.
Password
:
www.AvaxHome.ru
Download from Rapidshare
Бонус | Bonus
My other uploaded eBooks (1400+) - links and descriptions
Другие книги, закаченные мной (более 1400) - ссылки и библиографические данные
version 5 (April 07 2006)
Download eBooks list from Mytempdir
Download eBooks list from Rapidshare
Please about the dead Rapidshare links send me the message
Пожалуйста отправляйте мне сообщение об убитых ссылках на Рапидшаре