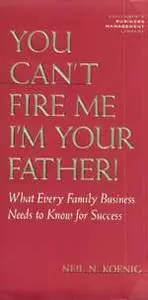 Neil N. Koenig - 'You Can't Fire Me: I'm Your Father. What Every Family Business Needs To Know For Success'
Kiplinger Books | ISBN 0-938721-74-7 | 2000 | PDF | 1,37 MB | 337 pages
When family and business meet, the result can be great reward and satisfaction or great tension and even greater heartache. This book provides a clear and simple approach to one of the most complex issues facing private enterprises, how to successfully balance the personal and professional needs of family business. Provides the basics for finding success both at work and at home.