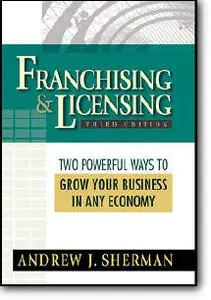 Andrew J. Sherman, «Franchising & Licensing: Two Powerful Ways to Grow Your Business in Any Economy» (3rd edition)
American Management Association | ISBN 0814472222 | 2003 Year | PDF | 1,71 Mb | 448 Pages
For well over a decade, Franchising & Licensing has been the standard reference for industry executives, consultants, and academics. Covering every aspect of these complex but highly profitable business strategies, the new third edition is applicable to domestic and international franchising initiatives alike. Every chapter has been brought up to the minute, with timely and detailed information on subjects such as:
* creating market-responsive sales, marketing, and globalization strategies
* raising capital, structuring agreements, and protecting intellectual property
* meeting regulatory, legal, and employment standards
* establishing quality control and compliance measures
* assessing opportunities for mergers & acquisitions, joint ventures, and other alternatives to franchising

Filled with illuminating examples, stories from the field, and dozens of forms for drafting franchising agreements and licensing programs, Franchising & Licensing remains the definitive resource for corporations in a myriad of industries.
Password
:
www.AvaxHome.ru
Download from Rapidshare
Бонус | Bonus
My other uploaded eBooks (1400+) - links and descriptions
Другие книги, закаченные мной (более 1400) - ссылки и библиографические данные
version 5 (April 07 2006)
Download eBooks list from Mytempdir
Download eBooks list from Rapidshare
Please about the dead Rapidshare links send me the message
Пожалуйста отправляйте мне сообщение об убитых ссылках на Рапидшаре