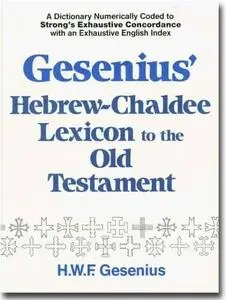 Gesenius' Hebrew and Chaldee Lexicon to the Old Testament
by Samuel Prideaux Tregelles | Baker Book House | 1990 | 919 pp | ISBN 0801037360 | djvu | ~24 MB
amazon.com link
A contribution to the Classical Languages Team Project
The Gesenius dictionary - the most authoritative dictionary of Biblical Hebrew - was scanned by me, and after uploading it in jpg's at
avaxhome.ws/ebooks/gesenius.html
, it was converted - at the intervention of Cyrano - by Didier in djvu. Almost one tenth of the original pdf in size, it is just as useful as that.
Download:
http://rapidshare.com/files/2009234/GeseniusLexicon.djvu
Check the Classical Languages Team Project page for more downloads in Latin, Greek, Hebrew, Aramaic and Syriac, as well as in Classical Arabic and Sanskrit, at uztranslations.net.ru/classics.html .

And please - if you like these posts, do contribute to the Project.