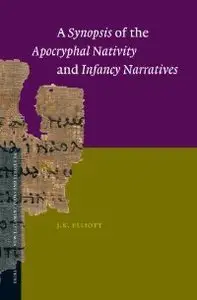 J. K. Elliott, "A Synopsis of the Apocryphal Nativity and Infancy Narratives (New Testament Tools and Studies)"
Publisher: Brill Academic Publishers | ISBN 10: 9004150676 | 2006 | PDF | 198 pages | 1 MB
Early Christians built on the stories of Jesus' birth found in the New Testament. Their later accounts, many of them found nowadays among collections of non-canonical ('apocryphal') texts, are important and interesting. They give insights into the growth of Christian theology, especially concerning the role and status of Mary, and also the way in which the earliest stories were elaborated and interpreted in popular folk religion.
A range of the earliest accounts is presented here in fresh translations; it includes some rare Irish material. The texts are arranged in small units and synoptically, in order to permit readers to compare texts and to see the differences and similarities between them.