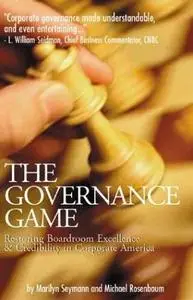 Marilyn Seymann and Michael Rosenbaum
The Goverence Game: Restoring Boardroom Excellence & Credibility in Corporate America
Aspatore Books | ISBN 1587623323 | 2003 | CHM | 0.3 MB
A pair of insiders and a host of corporate directors reveal the all-too-human failings that lead to corporate mismanagement and malfeasance. Seymann and Rosenbaum argue that the corporate meltdowns of 2002 resulted more from a lack of director focus than a lack of rules, and they come up with commonsense solutions that can be implemented immediately. In Plain English, they dissect the corporate practices that defy logic, the questions that are never asked or answered, and the hidden traps that snare so many corporate boards. The Governance Game is required reading for CEOs and directors, for investors and consumers, and for anyone who wants to understand what went wrong with corporate America - and how to fix it.