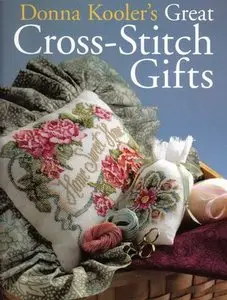 Donna Kooler's Great Cross-Stitch Gifts
Sterling/Chapelle | 2004 | ISBN: 1402705379 | English | 129 pages | PDF | 31.5 MB
From one of the world's finest cross-stitch designers come some of the prettiest gifts ever created. This charming collection of projects will inspire newcomers to pick up a needle and fabric, while delighting experienced embroiderers always on the lookout for new ideas. Stitch a floral sachet bag (there are several flower patterns to choose from); an individualized gift tag; or a blue-and-white pillow and afghan. Plus, there's a special "angel" to cross-stitch for every month of the year.