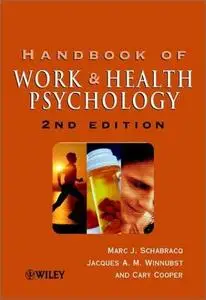 The Handbook of Work and Health Psychology, 2nd edition
edited by Marc J. Schabracq, Jacques A. M. Winnubst, Cary L. Cooper
John Wiley & Sons | ISBN 0471892769 | 2002 | PDF | 636 pages | 2.2 MB
Workplace health is now recognised as having major legal, financial and efficiency implications for organizations. Psychologists are increasingly called on as consultants or in house facilitators to help design work processes, assess and counsel individuals and advise on change management. The second edition of this handbook offers a comprehensive, authoritative and up-to-date survey of the field with a focus on the applied aspects of work and health psychology. An unrivalled source of knowledge and references in the field, for students and academics, this edition also reflects the need to relate research to effective and realistic interventions in the workplace.
*Editors are outstanding leaders in their fields
*Focuses on linking research to practice
*Over 50ew chapters. New topics include Coping, The Psychological Contract and Health, Assessment and Measurement of Stress and Well-Being, the Effects of Change, and chapters of Conflict and Communication