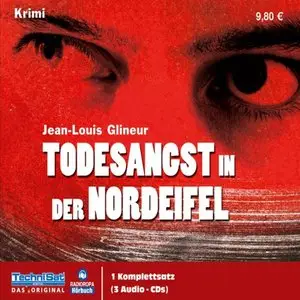 Jean-Louis Glineur - Todesangst in der Nordeifel
Genre: Krimi, Thriller | Time: 03:45:06 | Publisher: Radioropa Horbuch | ISBN: 3866675348 | 1. September 2006
Language: Deutsch | Audiobook in MP3 / 128 kbps | 212.48 MB
Beschreibung:
Soviel Spannung und zudem Action, die nicht unrealistisch ist. Und zudem ein Vorleser, der alles genial in die Szene setzt! Er hat verschiedene Stimmbalancen drauf, die je nach Situation die dramatischen Momente beeinflussen, er spielt mit seiner Stimme, um den Krimi bestmöglich herüberkommen zu lassen. Der Zuhörer wird es ihm danken, denn es kommt absolut keine Langeweile auf.
Marianne Belder wird auf einem Spazierweg in der Nordeifel überfallen, bald danach wird eine Jugendliche in der Nähe von Schleiden ermordet. Dem Ehemann von Marianne arbeitet die Polizei zu langsam, und so beauftragt er die Privatdetektive Alwin Schreer und Anne-Catherine Vartan.
Der unbekannte Serientäter erfährt durch einen Aachener Boulevard-Journalisten und dessen Berichterstattung, dass die Detektive auf seiner Spur sind. Doch er birgt noch ein anderes dunkles Geheimnis, und so schlägt er zurück und setzt alles daran, durch eine üble Autorempelei beide Detektive umzubringen. Das Auto brennt aus, doch Schreer und Vartan überleben. Jetzt nehmen die Detektive die Angelegenheit persönlich, und eine Jagd durch die Euregio beginnt!
Download Jean-Louis Glineur - Todesangst in der Nordeifel:
filesonic.com
|
wupload.com
|
uploaded.to
Pass: avaxhome.ws
Mehr Audiobucher von mir findet Sie in
My Blog
If you'll find that my links are dead please let me know through the Private Messages.
Please DO NOT MIRROR