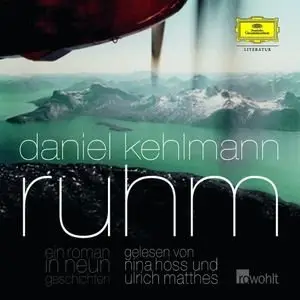 Daniel Kehlmann - Ruhm - Ein Roman in neun Geschichten
Genre: Roman | Time: 05:15:14 | Publisher: rororo | ISBN: 349924926X | 1. November 2010
Language: Deutsch | Audiobook in MP3 / 192 kbps | 446.25 MB
Beschreibung:
Ruhm heißt der neue Roman des Erfolgsschriftstellers Daniel Kehlmann. Damit niemand glaubt, dass er nun größenwahnsinnig geworden ist, hat er in einem Interview vor der Veröffentlichung betont, dass der Titel ironisch gemeint sei. Geistreicher Witz und subtile Ironie - diese beiden Stärken spielt Kehlmann in der Tat auch in seinem neuen Roman aus. Eine seiner Figuren ist Leo Richter, ein brillanter, geistreicher Bestseller-Autor. Der Verdacht liegt nahe, dass es sich um ein Alter Ego Kehlmanns handelt. Genährt wird er dadurch, dass Richter im Roman Ruhm über eben dieses Werk reflektiert. Und er schafft Figuren, die dort auftreten - ein vielschichtiges und spannendes Spiel mit Wirklichkeit und Fiktion, das auf weiteren Ebenen fortgeführt wird. Kehlmann schildert Richter auch in ironischer Brechung: Auf Reisen beispielsweise mutiert Leo, der Löwe, unter Flugangst leidend, zu einem ängstlich wimmernden Kätzchen.
Aus neun Kurzgeschichten besteht der Roman. Jede kann, mit Ausnahme der letzten, für sich gelesen werden. Einzelne Figuren oder Fäden der einen Geschichte werden in der nächsten oder einer späteren Geschichte weitergesponnen und zu einem Roman verwoben. Ruhm ist voller intertextueller Bezüge und Querverweise. So zitiert Kehlmann paraphrasierend aus Goethes Faust. Aber man muss nicht alles erkennen, um dem Roman folgen und ihn mit Genuss lesen zu können.
Ruhm ist ein Literatur gewordener Episodenfilm, spannungsreich und mitreißend geschrieben. Pointiert und treffsicher sind die Schilderungen: Ein Satz oder eine Geste reichen bei Kehlmann aus, um Bilder entstehen und Situationen klar werden zu lassen. Den begeisterten Lesern von Die Vermessung der Welt und Ich und Kaminski wird auch Ruhm gefallen.
Download Daniel Kehlmann - Ruhm - Ein Roman in neun Geschichten:
filesonic.com
Pass: avaxhome.ws
Mehr Audiobucher von mir findet Ihr in
My Blog
If you'll find that my links are dead please let me know through the Private Messages.
Please DO NOT MIRROR