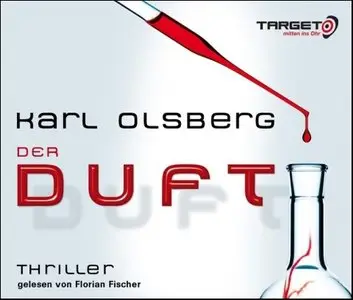 Karl Olsberg - Der Duft
Genre: Krimi, Thriller | Time: 07:10:35 | Publisher: Audio Media Verlag | ISBN: 3868045104 | 1. Dezember 2008
Language: Deutsch | Audiobook in MP3 / 128 kbps | 405.29 MB
Beschreibung:
Spannende Story um einen betörend gefährlichen Duft! Der neue Olsberg-Thriller ist einfach noch besser als sein Erstling "Das System", einfach realistischer. Die Story um den geheimnisvollen Duft ist zwar frei erfunden, aber man kann sich sehr gut vorstellen, dass in den Labors dieser Welt an einer solchen "Waffe" gebastelt wird. Und auch das Szenario, das sich dann ergibt, ist mehr als realistisch. Kaum vorzustellen, was Terroristen mit einem solchen Pheromon anrichten könnten. Die Lesung ist sehr gut gemacht. Florian Fischer schafft es, den Hörer über 6 CDs mit an die verschiedenen Schauplätze zu nehmen, ohne dass dieser müde wird, weiter zuzuhören. Auch die Musikeinspielungen unterstützen gekonnt die Dramaturgie und unterstreichen die Handlung. Kann ich nur empfehlen!
Das Böse ist stärker als der Verstand - Während Marie Escher das Zukunftspotential einer Biotech-Firma analysiert, kommt es zu einem blutigen Zwischenfall. Um die Hintergründe aufzuklären, reist sie mit ihrem jungen Kollegen Rafael nach Uganda. Noch ahnen die beiden nicht, dass dort an einem "Duft" gearbeitet wird, der unkontrollierbare Aggressionen auslöst. Im Zuge ihrer Nachforschungen geraten Marie und Rafael in die Hände von skrupellosen Terroristen, die den Stoff für ihre Zwecke nutzen wollen. Doch nicht nur die Terroristen haben Interesse an dem "Duft", sondern auch andere Großen der Welt wollen sich seiner bemächtigen. Ehe sie sich versehen, sind Marie und Rafael zwischen die Fronten geraten und müssen um ihr Leben fürchten, aber sie wissen: Nur sie allein können die Welt vor dem Chaos bewahren …
Download Karl Olsberg - Der Duft:
filesonic.com
|
wupload.com
|
uploaded.to
Pass: avaxhome.ws
Mehr Audiobucher von mir findet Sie in
My Blog
If you'll find that my links are dead please let me know through the Private Messages.
Please DO NOT MIRROR