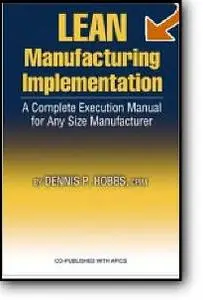 Dennis P. Hobbs, «Lean Manufacturing Implementation: A Complete Execution Manual for Any Size Manufacturer»
J. Ross Publishing, Inc. | ISBN 1932159142 | 2003 Year | CHM | 5,65 Mb | 244 Pages
This project management approach to Lean manufacturing implementation does not require help from expensive consultants. The proven, objective, standard, and complete "how to" sequential series of progressive steps are easy to understand and use to effect factory transformation to Lean. This manual illustrates the methodologies that will help you produce higher quality products at a lower cost with faster response times. The results: improved profit margins and increased market share. The author also provides a toolbox of techniques for problem solving, continuous improvement, and for operating a Lean manufacturing facility on a day-to-day basis after the initial line design is completed.