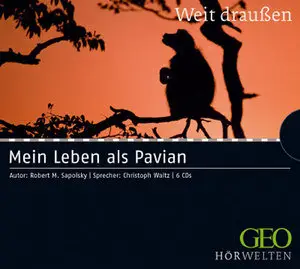 Robert M. Sapolsky - Mein Leben als Pavian
Genre: Biografie, Erinnerung | Time: 06:24:02 | Publisher: RH Audio | ISBN: 3866045948 | 16. Juli 2007
Language: Deutsch | Audiobook in MP3 / 128 kbps | 362.69 MB
Beschreibung:
Mein Leben als Pavian Der Pavianhorde schloss ich mich in meinem 21. Lebensjahr an. Als Heranwachsender hatte ich nie mit dem Gedanken gespielt, ein Steppenpavian zu werden; ich hatte vielmehr immer geglaubt, aus mir würde ein Berggorilla." Schon als Kind stand der zukünftige Biologe Robert M. Sapolsky vor den Dioramen des New Yorker Naturkundemuseums und bestaunte mit weit aufgerissenen Augen die exotische Welt, die sich hinter den Glasscheiben auftat. Schließlich reist er nach Kenia, um dort über viele Jahre hinweg unter teils erbärmlichen Bedingungen Feldforschung zu betreiben. Was er kennen lernt, ist nicht nur die - durchaus niederträchtige - Gemeinde der Paviane, sondern auch die der Menschen, die dort leben. Die Mitglieder des Massai-Volkes etwa setzen alles daran, den neugierigen Forscher einem Kulturschock nach dem anderen auszusetzen.
Sapolsky, einmal als Woody Allen der Verhaltensforschung bezeichnet, ist ein Wissenschaftsautor, der weit mehr als seine - nach biblischen Gestalten benannten - Studienobjekte beschreibt. Er reflektiert zugleich auch seine Zunft und die Menschengesellschaft. Und tut das mit umwerfender Erkenntnisbereitschaft und Komik, originell und voller Selbstironie, offen für niederschmetternde Erfahrungen. Ein Befreiungsschlag für alle, die den klassischen Afrika-Kitsch nicht mehr lesen mögen.
Download Robert M. Sapolsky - Mein Leben als Pavian:
filesonic.com
Pass: avaxhome.ws
Mehr Audiobucher von mir findet Ihr in
My Blog
If you'll find that my links are dead please let me know through the Private Messages.
Please DO NOT MIRROR