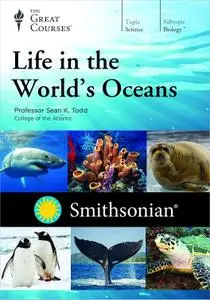 TTC Video - Life in the World's Oceans [720p]
Course No. 1725 | .MP4, AVC, 2500 kbps, 1280x720 | English, AAC, 128 kbps, 2 Ch | 30x32 mins | + PDF Guidebook | 18.08 GB
Lecturer: Sean K. Todd, Ph.D.
For thousands of centuries, humans lived near the ocean, wandered right up to its edge, and turned back to the relative safety of the known land. Even when we invented ships and the very bravest among us sailed out, our fears and imaginations took over. What creatures could be living in the unknowable darkness, the bottomless depths? Giant worms, microorganisms that eat metal, faceless fish, giant sea spiders? Marine life is even more otherworldly and fantastical than we ever imagined, and Life in the World's Oceans brings you face to face with these exciting creatures. From the phytoplankton that can only float at the whim of wind and currents to the gray whale that migrates 16,000 kilometers each year, you will be amazed at the variety of life in the seas and what we have only recently learned about its biology, evolution, life cycles, and adaptations.
The Great Courses has partnered with the Smithsonian to produce a vivid exploration of life in this fascinating space—the environment that accounts for 99 percent of Earth's habitable space. With curatorial expertise, content development, and stunning still and video imagery provided by Smithsonian's National Museum of Natural History, you'll understand our planet's ocean environment and the life it supports as you never have before.

Working in close consultation with Don Wilson, curator Emeritus from the Smithsonian Natural History Museum, Professor Sean K. Todd of the College of the Atlantic—and one of the world's leading marine biologists—developed 30 fascinating lectures that take you on a journey from the beginning of life on Earth four billion years ago to the environmental factors and international treaties and protocols that affect our oceans today. With an easygoing manner and an infectious passion for his topic, Professor Todd shares the latest research from the field's most fascinating areas of study, including marine-mammal intelligence and communication, bioluminescence, exploration of the ocean floor, as well as the Smithsonian's own cutting-edge research work around the world, including the Great Barrier Reef.

Phytoplankton: Carrying the Weight of Ocean Life—and Us

Professor Todd starts your ocean journey at the very beginning, with the wonders of water and a fascinating look at the specific properties that make this unique molecule the essential ingredient for life. You'll learn how life itself was ignited in this environment, eventually evolving into the phytoplankton that help keep us alive today, providing about 50 percent of all atmospheric oxygen. This phytoplankton—primarily free-floating, photosynthetic, and microscopic algae; and protists and prokaryotes—is the base of almost every marine food web. In fact, the largest animal ever known to have existed on earth, the 200-ton blue whale, sustains itself throughout an 80- to 90-year lifespan by eating only krill, which itself feeds directly on phytoplankton. With each blue whale requiring four tons of krill per day, it's easy to see the critical link between a healthy phytoplankton population and whale viability.

Professor Todd also explains how research with new technology has recently reversed more than one common "truth" about marine life. DNA analysis has revealed new relationships between lifeforms and resulted in major taxonomic changes. And high-tech submersibles have allowed biologists to explore the deepest ocean floor, revealing a pathway to life in the absence of sunlight. Only recently have scientists learned that bacteria and other organisms use the hot, metal-rich fluids released by hydrothermal vents to turn chemical energy into food. That energy then fuels species of snails, shrimp, giant tube worms, and others that have evolved to thrive in these aphotic ecosystems.

And if snails, shrimp, and giant tube worms are not enough to peak your interest, the unforgettably dramatic images provided through this course give you access into the depths of the oceans, grant you up-close-and-personal encounters with charming marine mammals, and allow insights into the exhibits of Smithsonian's National Museum of Natural History that you wouldn't get without being there—from the fossils of red alga to the giant skeleton of a Basilosaurus in the Sant Ocean Hall.

Those Charismatic Marine Mammals

Life in the World's Oceans provides a fascinating view into the complex lives of marine mammals, enhanced by stunning visual resources from the Smithsonian. Professor Todd shares his own exciting research and field experience with marine mammals to help respond to the most commonly asked questions about their intelligence.

In this course, you'll learn that:

Some marine mammals use tools. Sea otters and one population of bottlenose dolphins, for example, use rocks and sponges, respectively, to acquire food while protecting their skin.
Some groups of humpback whales exhibit a feeding method that is not genetic, but is a learned, cultural behavior. Known as bubble-net feeding, it requires planning, cooperation, and communication among groups of these usually solitary animals.
In their attempt to attract a mate, humpback whales compose lengthy songs and transmit them across the entire population of breeding males for that region. And as the song slowly morphs over the course of the season, all the males adopt those changes, presumably learning from each other.
In the 1980s, a researcher noticed a humpback whale in the Gulf of Maine exhibiting a feeding behavior never recorded and named it lobtail feeding. Within ten years, the percentage of humpbacks seen using this technique went from zero to 50 percent, clear evidence of cultural transmission between individuals.
Bottlenose dolphins, orcas, and false killer whales appear capable of recognizing their image in a mirror. This is an extremely rare ability among animals, and indicates that some marine mammals could be "self-aware."

Based on these observations and additional exciting research, you'll learn exactly why Professor Todd concludes that these magnificent animals are indeed intelligent, communicative, and "accomplished" in their own environment to meet their own needs.

The Future of the Oceans

Given the size of the ocean, it's understandable that humans believed it would be an inexhaustible resource, capable of diluting anything we threw its way. As Professor Todd leads you through the underwater wonders, he also focuses on the history and evolution of the vast entity. You'll learn how the industrial revolution brought new, unforeseen technologies that possessed the ability to severely impact our environment. Climate change, acidification, and overfishing affect marine populations around the globe. During a relatively short period of time, we "fished" various sea life almost to extinction in the northern Atlantic, including the right whale, California sardines, several species of tuna, Chilean sea bass, and many more. As Professor Todd introduces you to various types of marine life, he also shares which ones are still facing great risks. Even today, many species of albatross, sharks, and sea turtles are in danger of becoming nonexistent.

One of the most important lessons Professor Todd shares in Life in the World's Oceans is why it's so important to consider the ocean environment as an entire system. Professor Todd's passion for preserving the precious resource of the world's oceans—and the diversity of life within them—is another area where the educational mission and research aims of the Smithsonian were a perfect match. Professor Todd demonstrates the value of using our resources and conservation efforts to protect the ocean environment itself, as opposed to addressing the plight of any species. Professor Todd explains that with a clean, healthy ocean environment, the plants and animals will be able to take care of themselves, just as they have evolved to do. Even more importantly, a healthy ocean will provide resources for continued human survival and success, from food to energy to the oxygen we need for life itself.

Swimming with dolphins, talking to whales, touring the barrier reef, plunging the depths of the seas—these are experiences that very few of us get to share. With Life in the World's Oceans and the Smithsonian, you get an unprecedented chance to get up close and personal with the underwater world, so you can better understand and appreciate the magnificence of that environment.