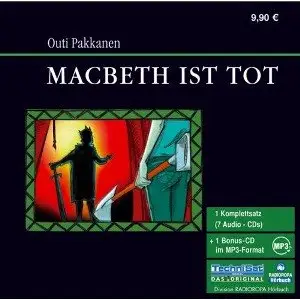 Outi Pakkanen - Macbeth ist tot
Genre: Krimi, Thriller | Time: 08:09:21 | Publisher: Radioropa Horbuch | ISBN: 386667032X | 28. Juni 2006
Language: Deutsch | Audiobook in MP3 / 128 kbps | 461.84 MB
Beschreibung:
Arttu Jaala, einstmals der bekannteste finnische Schauspieler, möchte zurück auf die Bretter, die die Welt bedeuten. Er stellt ein kleines Team zusammen und verspricht der Öffentlichkeit eine Theatersensation. Doch zur Premiere kommt es nicht: Ein Mörder schlägt zu. Inspektor Matti Martikka muss sich auf ein schwieriges Parkett begeben.
Download Outi Pakkanen - Macbeth ist tot:
filesonic.com
Pass: avaxhome.ws
Mehr Audiobucher von mir findet Ihr in
My Blog
If you'll find that my links are dead please let me know through the Private Messages.
Please DO NOT MIRROR