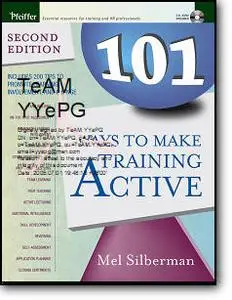 Mel Silberman, Karen Lawson, «101 Ways to Make Training Active» (2nd edition)
Pfeiffer | ISBN 0883904756 | 2005 Year | PDF | 4,59 Mb | 340 Pages
Watch your training come alive with any of these 101 adaptable strategies!
These proven, generic activities will enliven your sessions and deepen learning and retention–no matter what you're teaching.

This active training field guide provides activities useful for:

Immediately involving participants
Promoting back-on-the-job application
Facilitating team learning
Reviewing program content
Developing skills . . . and more!
You'll also get 160 training tips about: obtaining participant expectations
* regaining control of the group
* making lectures active
* forming groups . . . and more!
Password
:
www.AvaxHome.ru
Download from Rapidshare
Бонус | Bonus
My other uploaded eBooks (1900+) - links and descriptions
Другие книги, закаченные мной (более 1900) - ссылки и библиографические данные
New!
version 6 (May 03 2006) [1,1 Mb] | Format: txt
Download eBooks list from Mytempdir
Download eBooks list from Rapidshare
If you need a book from the list but the link doesn't work
anymore, send me a message. Also write me about dead links in my other posts, please.
Если Вам необходима книга из списка, а ссылка на нее не работает, то отправьте мне сообщение. Также пожалуйста отправляйте мне сообщения о нерабочих ссылках в моих постах.