At request. Reupload from May, 2. Link was deleted.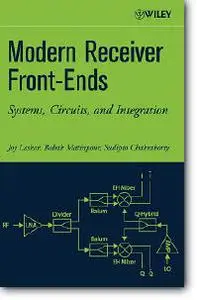 Joy Laskar, Babak Matinpour, Sudipto Chakraborty, «Modern Receiver Front-Ends: Systems, Circuits, and Integration»
Wiley-Interscience | ISBN 0471225916 | 2004 Year | PDF | 2,27 Mb | 221 Pages
* Describes the actual implementation of receiver architectures from the initial design to an IC-based product
* Presents many tricks-of-the-trade not usually covered in textbooks
* Covers a range of practical issues including semiconductor technology selection, cost versus performance, yield, packaging, prototype development, testing, and analysis
* Discusses architectures that are employed in modern broadband wireless systems
Password
:
www.AvaxHome.ru
Download from Rapidshare
Бонус | Bonus
My other uploaded eBooks (1900+) - links and descriptions
Другие книги, закаченные мной (более 1900) - ссылки и библиографические данные
New!
version 6 (May 03 2006) [1,1 Mb] | Format: txt
Download eBooks list from Mytempdir
Download eBooks list from Rapidshare
If you need a book from the list but the link doesn't work
anymore, send me a message. Also write me about dead links in my other posts, please.
Если Вам необходима книга из списка, а ссылка на нее не работает, то отправьте мне сообщение. Также пожалуйста отправляйте мне сообщения о нерабочих ссылках в моих постах.