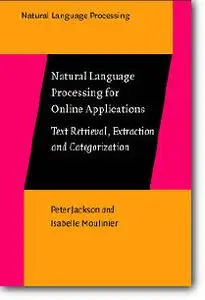 Peter Jackson, Isabelle Moulinier, «Natural Language Processing for Online Applications: Text Retrieval, Extraction, and Categorization»
John Benjamins Publishing Co | ISBN 1588112497 | 2002 Year | PDF | 1,24 Mb | 218 Pages
The words "online applications" in the title suggest that this book is about NLP for websites, but it's much more general than that; certainly any of the technologies discussed in it could in fact be implemented on a website, but "online applications" should be interpreted as meaning something like "applications that are made possible or commercially viable by the availability of large bodies of documents over the Internet."
The focus of the book is on technologies with commercial applications, and that aspect of the topics discussed in the book is addressed clearly and well. However, there's also plenty in the book that will be of interest to a researcher, especially one looking for an overview of a topic. In fact, the book reads much like a series of well-written review articles.

The first chapter of the book discusses some of the general issues and challenges in natural language processing, on a level that should be accessible to pretty much anyone. (Actually, one of the really outstanding features of this book is its overall readability.) Subsequent chapters focus on information retrieval, information extraction, and text categorization. The final chapter has shorter sections on other topics, including summarization and named entity recognition.

All chapters of the book are characterized by high readability, clear explanations of algorithms (and I say that as someone who struggles with ANY algorithm), and good explanations of the relevant evaluation metrics.

This book would be a good starting point for anyone; if you're not a beginner in natural language processing, you'll still find much that's useful in this book..
Password
:
www.AvaxHome.ru
Download from Rapidshare
Бонус | Bonus
My other uploaded eBooks (1400+) - links and descriptions
Другие книги, закаченные мной (более 1400) - ссылки и библиографические данные
version 5 (April 07 2006)
Download eBooks list from Mytempdir
Download eBooks list from Rapidshare
Please about the dead Rapidshare links send me the message
Пожалуйста отправляйте мне сообщение об убитых ссылках на Рапидшаре