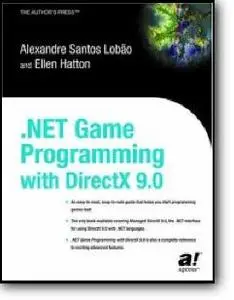 Alexandre Santos Lobao, Ellen Hatton, «.NET Game Programming with DirectX 9.0»
Apress | ISBN 1590590511 | 2003 Year | PDF | 6,36 Mb | 654 Pages
The only book available covering Managed DirectX 9.0, the .NET interface for using DirectX 9.0 with .NET languages
Feature-packed CD-ROM includes DirectX 9.
Presented in easy-to-understand language, .NET Game Programming with DirectX 9.0 is a must-have title for those who want to create out of the ordinary but simple games, but have never had the time to expend reading hardcore game developer books. Lobao and Hatton show how easy it can be to produce interesting multimedia games using Managed DirectX 9.0 and programming with Visual Basic .NET on Everett, the latest version of Microsoft's Visual Studio.

Although their focus is on simplicity, the authors are able to explore all basic concepts within Managed DirectX 9.0: Direct3D, DirectSound, DirectMusic (using the COM interface), DirectInput (including force-feedback joysticks), DirectShow, and DirectPlay. There are also chapters covering other technologies that can be used for game programming: the Speech API to generate game characters' voices, multithreading, and GDI+ for simple games. A bonus chapter shows how to port a simple game to Pocket PC.

Sample games are presented over two chapters throughout the book. The first chapter presents the game with simple features, and the second chapter extends the game while presenting new concepts. A library of game programming helper classes is also created, step-by-step, in each chapter.
Password
:
www.AvaxHome.ru
Download from Rapidshare
Бонус | Bonus
My other uploaded eBooks (1400+) - links and descriptions
Другие книги, закаченные мной (более 1400) - ссылки и библиографические данные
version 5 (April 07 2006)
Download eBooks list from Mytempdir
Download eBooks list from Rapidshare
Please about the dead Rapidshare links send me the message
Пожалуйста отправляйте мне сообщение об убитых ссылках на Рапидшаре