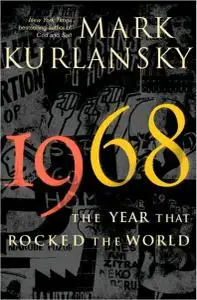 1968: The Year That Rocked the World by Mark Kurlansky
English | 2003 | ISBN: 0345455819 | EPUB | 464 pages | 1.4 Mb
History
In this monumental new book, award-winning author Mark Kurlansky has written his most ambitious work to date: a singular and ultimately definitive look at a pivotal moment in history.
With 1968, Mark Kurlansky brings to teeming life the cultural and political history of that world-changing year of social upheaval. People think of it as the year of sex, drugs, and rock and roll. Yet it was also the year of the Martin Luther King Jr. and Bobby Kennedy assassinations; the riots at the Democratic National Convention in Chicago; Prague Spring; the antiwar movement and the Tet Offensive; Black Power; the generation gap, avant-garde theater, the birth of the women's movement, and the beginning of the end for the Soviet Union. From New York, Miami, Berkeley, and Chicago to Paris, Prague, Rome, Berlin, Warsaw, Tokyo, and Mexico City, spontaneous uprisings occurred simultaneously around the globe.
In many ways, this momentous year led us to where we are today. Whether through youth and music, politics and war, economics and the media, Mark Kurlansky shows how, in 1968, twelve volatile months transformed who we are as a people. But above all, he gives a new understanding to the underlying causes of the unique historical phenomenon that was the year 1968. Thoroughly researched and engagingly written–full of telling anecdotes, penetrating analysis, and the author's trademark incisive wit.