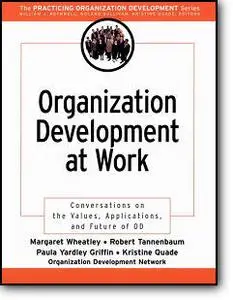 Margaret Wheatley, Paula Griffin, Kristine Quade, National OD Network, «Organization Development at Work : Conversations on the Values, Applications, and Future of OD»
Pfeiffer | ISBN 078796963X | 2003 Year | PDF | 1,26 Mb | 224 Pages
Organization Development at Work— a title in The Practicing OD Series— is a collection of conversations among leaders, practitioners, and educators in the organization development (OD) field. Throughout the book experienced professionals share their best thinking about principles, practices, values, and the future of OD. In this valuable resource, nearly 100 contributors share their operating principles, successful models, tools, application tips, and important insights from their years of practice. Written for organization development practitioners, consultants, and anyone who is considering a career in OD, Organization Development at Work will highlight the points of view that define the "values controversy" so you will be better able to clarify your own position on values-based work. As you read contributors stories, you will be able to compare your career path with others in the field. In addition, this book offers perspective on the debate about global work, with advice for practitioners seeking to do work on foreign soil. You will feel as if you are in a conversation with friends, mentors, and colleagues who are freely sharing their experiences, questions, and concerns.
Password
:
www.AvaxHome.ru
Download from Rapidshare
Бонус | Bonus
My other uploaded eBooks (1400+) - links and descriptions
Другие книги, закаченные мной (более 1400) - ссылки и библиографические данные
version 5 (April 07 2006)
Download eBooks list from Mytempdir
Download eBooks list from Rapidshare
Please about the dead Rapidshare links send me the message
Пожалуйста отправляйте мне сообщение об убитых ссылках на Рапидшаре