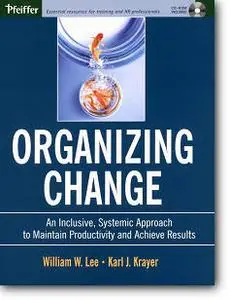 William W. Lee, Karl J. Krayer, «Organizing Change: An Inclusive, Systemic Approach to Maintain Productivity and Achieve Results»
Pfeiffer | ISBN 0787964433 | 2003 Year | PDF | 1,37 Mb | 272 Pages
Learn how to harness change and use it as a competitive advantage! Organizing Change shows you how to organize and activate a team process to accomplish a successful change initiative throughout your organization. Using the process outlined in this book, your organization will be able to respond quickly yet methodically to your organization's needs while your company maintains, and even increases, productivity and results throughout the change process.
"In Organizing Change Lee and Krayer have taken what most executives regard as consultant candy and transformed it into a science . . . a doable science."
–Joseph F. Carlisle, senior consultant, Training Consulting Softek, Denton, Texas

Written for organizational development consultants, human resources professionals, managers at all levels, and organizational change agents, this important resource is a valuable asset that contains a wealth of tools, ideas, as well as a wide variety of checklists, worksheets, templates, and forms that you can use to assist you in organizing change initiatives.
Бонус | Bonus
My other uploaded eBooks (1400+) - links and descriptions
Другие книги, закаченные мной (более 1400) - ссылки и библиографические данные
version 5 (April 07 2006)
Download eBooks list from Mytempdir
Download eBooks list from Rapidshare
Please about the dead Rapidshare links send me the message
Пожалуйста отправляйте мне сообщение об убитых ссылках на Рапидшаре