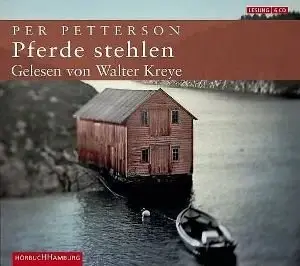 Per Petterson - Pferde stehlen
Genre: Roman | Time: 07:25:00 | Publisher: Horbuch Hamburg | ISBN: 3899037928 | 8. Februar 2008
Language: Deutsch | Audiobook in MP3 / 128 kbps | 440.54 MB
Beschreibung:
Norwegen im Sommer 1948: Der fünfzehnjährige Trond verbringt die Ferien in einer Hütte nahe der schwedischen Grenze. Es ist eine Gegend, in der man Pferde stehlen kann, zum Beispiel mit dem gleichaltrigen Jon von nebenan. Abseits vom Dorf, am großen Fluß, kommt Trond dem in den Jahren des Krieges entbehrten Vater wieder näher. Als in der Nachbarsfamilie ein schreckliches Unglück geschieht, entdeckt der Junge das wohlgehütete Lebensgeheimnis seines Vaters. In den Kriegsjahren hatte dieser zusammen mit der Nachbarin politisch Verfolgte über den Fluß gebracht. Und sich dabei für immer in diese Frau verliebt. Noch ahnt der Sohn nicht, daß er seinen Vater nach diesem gemeinsamen Sommer nie wiedersehen wird. Fünfzig Jahre später hat sich Trond eine ähnliche Hütte an einem Fluß im Norden gekauft. Nach dem Tod seiner Frau will er hier, allein mit seinem Hund, seinen Lebensabend verbringen. Bis ein Nachbar auftaucht, der ihm bekannt vorkommt, und die Ereignisse jenes Sommers ihn wieder einholen.
Download Per Petterson - Pferde stehlen:
uploaded.to
filesonic.com
Pass: avaxhome.ws
Mehr Audiobucher von mir findet Ihr in
My Blog
If you'll find that my links are dead please let me know through the Private Messages.
Please DO NOT MIRROR