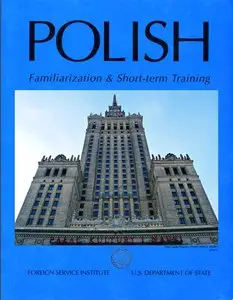 Polish Familiarization and Short-term Training
Publisher: Foreign Service Institute | 1992 | ISBN: N/A | English/Polish | True PDF | 467 pages | 24.61 Mb
The Polish Familiarization and Short-term Training (FAST) Course has been developed by the Foreign Service Institute (FSI) School of Language Studies Polish teaching staff, under the direction of Hedy A.St.Denis. The field test version was prepared in 1985 by Krystyna Stypulkowska-Smith. Grammar review exercises were written by Krystyna Sadlowska in 1988. Technical guidance during the early stages of development was provided by Martha Gowland. Hedy A. St. Denis and Michael S. Allen edited the text. Special contributions in proofreading, formatting, revising, and course design were made by the Polish teaching staff: Anna Budzinski, Izabella Cornwell, Grazyna Gerlach, Victor Litwinski, Ewa Paz, Katarzyna Szymanska, Ewa Vorndran, and Krystyna Wolanczyk.