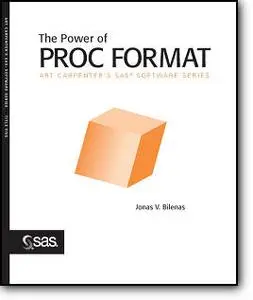 Jonas V. Bilenas, «The Power of PROC FORMAT»
BBU Press | ISBN 1590475739 | 2005 Year | PDF | 1,05 Mb | 124 Pages
Are you a programmer, statistician, or data analyst tasked with generating reports? Discover how you can put the powerful FORMAT procedure to work for you with The Power of PROC FORMAT. Written in an easy-to-follow tutorial style and illustrated with real-world examples and solutions, this handy guide introduces beginning to intermediate SAS users to the functionality of the FORMAT procedure. Learn how the FORMAT procedure can recategorize data values while doing a variety of tasks, including building user-defined formats and informats, implementing a table lookup in SAS, using the DATA step and other SAS procedures, assigning descriptive labels to data values, creating new variables and finding unexpected values, generating data extracts, and merging data sets.
Password
:
www.AvaxHome.ru
Download from Rapidshare
Бонус | Bonus
My other uploaded eBooks (1900+) - links and descriptions
Другие книги, закаченные мной (более 1900) - ссылки и библиографические данные
New!
version 6 (May 03 2006) [1,1 Mb] | Format: txt
Download eBooks list from Mytempdir
Download eBooks list from Rapidshare
If you need a book from the list but the link doesn't work
anymore, send me a message. Also write me about dead links in my other posts, please.
Если Вам необходима книга из списка, а ссылка на нее не работает, то отправьте мне сообщение. Также пожалуйста отправляйте мне сообщения о нерабочих ссылках в моих постах.