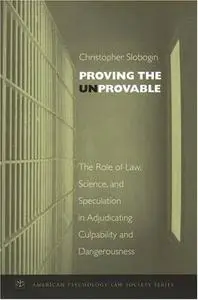 Christopher Slobogin, «Proving the Unprovable: The Role of Law, Science, and Speculation in Adjudicating Culpability and Dangerousness (American Psychology-Law Society)»
Oxford University Press, USA | ISBN 0195189957 | 1st Edition - September 2006 | PDF | 208 Pages | 2,42 Mb
The law frequently looks to mental health professionals to help determine whether defendants can be deemed culpable for crimes or incarcerated to prevent them from harming others. The cases of Charles McCoy, who plead not guilty by reason of insanity to the Interstate 270 shootings in Ohio,
and Patricia Johnson, who recently won the right to a new trial for the 1991 murder of her husband to allow the court to consider battered woman syndrome in her defense, involve countless mental health professionals arguing from both sides of the bench. They also demonstrate that these cases figure prominently in legal and psychological discourses. However, many legal professionals are increasingly challenging the testimony offered by behavioral health experts, calling it unreliable and maligning it as a form of speculative story-telling.
This book is written for researchers, scholars, advanced graduate students, and clinicians who work in risk assessment and criminal responsibility. It addresses the question of admitting expert testimony from behavioral health experts in determining matters of culpability and dangerousness by
examining a number of factors, including the source of the expert testimony, whether juries need it, and whether it is presented as proven or informed in the court. It argues that the question cannot be understood as a dualistic matter of being for or against expert testimony; rather, its highly
nuanced arguments show that determining who should be punished and who should be preventively detained must happen through an interdisciplinary process that looks at the specific circumstances of each case. It offers an analytic framework for making these determinations that treats culpability and dangerousness not as static, ontologically-complete entities, but rather as socially-constructed concepts that cannot be determined solely through the scientific method. The book makes the intriguing argument throughout that although expert testimony cannot be considered scientifically reliable or proven, it should nevertheless be included as long as it can be classified and understood as informed speculation because it makes legal factfinders attend more closely to the matters that the law considers pertinent to past mental states.
Download Here
Password:
spiderman
It is my original post for the community. If U wish me to continue posting more latest ebooks for the members, please don't post mirrors, as a recognition of my efforts for you. Thanks!!!