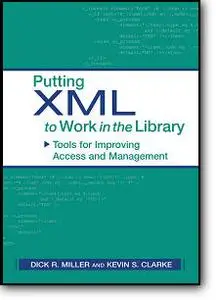 Dick R. Miller, Kevin S. Clarke, «Putting XML to Work in the Library: Tools for Improving Access and Management»
American Library Association | ISBN 0838908632 | 2003 Year | PDF | 1,5 Mb | 205 Pages
The authors, hoping to stimulate interest in XML (Extensible Markup Language) and explain its value to the library community, offer a fine introduction to the topic. The opening chapter defines XML as "a system for electronically tagging or marking up documents in order to label, organize, and categorize their content" and then goes on to describe its origins and fundamental building blocks. Subsequent chapters address related technologies, schema development, XML-based tools, and current and future library uses. The authors argue persuasively for increased XML use, emphasizing its advantages over HTML in flexibility, interoperability, extensibility, and internationalization. Information is detailed, deftly written, and supported by numerous examples. Readers without a technological bent may find the text daunting, but their perseverance will be richly rewarded. Particularly recommended for webmasters and those working in library information systems and technical services.
Password
:
www.AvaxHome.ru
Download from Rapidshare
Бонус | Bonus
My other uploaded eBooks (1400+) - links and descriptions
Другие книги, закаченные мной (более 1400) - ссылки и библиографические данные
version 5 (April 07 2006)
Download eBooks list from Mytempdir
Download eBooks list from Rapidshare
Please about the dead Rapidshare links send me the message
Пожалуйста отправляйте мне сообщение об убитых ссылках на Рапидшаре