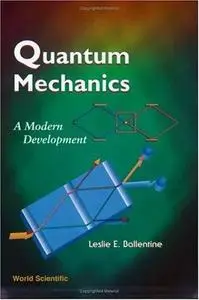 Leslie E. Ballentine
Quantum Mechanics: A Modern Development
World Scientific | ISBN 9810241054 | 1998 | PDF | 658 pages | 4.5 MB
Although there are many textbooks that deal with the formal apparatus of quantum mechanics (QM) and its application to standard problems, none take into account the developments in the foundations of the subject which have taken place in the last few decades. There are specialized treatises on various aspects of the foundations of QM, but none that integrate those topics with the standard material. This book aims to remove that unfortunate dichotomy, which has divorced the practical aspects of the subject from the interpretation and broader implications of the theory.