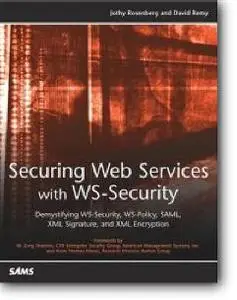 Jothy Rosenberg, David Remy, «Securing Web Services with WS-Security: Demystifying WS-Security, WS-Policy, SAML, XML Signature, and XML Encryption»
Sams | ISBN 0672326515 | 2004 Year | CHM | 4 Mb | 408 Pages
The most up to date, comprehensive, and practical guide to Web services security, and the first to cover the final release of new standards SAML 1.1 and WS-Security. Comprehensive coverage and practical examples of the industry standards XML Signature and XML Encryption, and the first book to cover the final WS-Security and SAML 1.1 specifications Authors Jothy Rosenberg and David Remy are security experts who co-founded GeoTrust, the #2 Web site certificate authority and currently work for Service Integrity and BEA Systems, respectively. According to IBM, American Express, Sun Microsystems, and other industry leaders, well-defined security standards and procedures are a crucial element to the adoption of web services in industry.