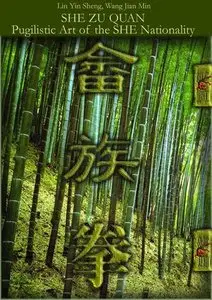 Lin Yin Sheng, Wang Jian Min - She Zu Quan
Kung fu Library | 2006 | ISBN: N/A | English | 111 pages | PDF | 2.1 MB
During the reign of emperor Yongzheng (1723 - 1735) from the dynasty QING Shaolin patriotic monks made plans to overthrow the QING and restore the MING dynasty. TheSouthern Shaolin in Quanzhou became an underground center of the movement for the restoration of the MING dynasty in the south of China. After being reported about that, the QING government sent troops which had an order to demolish the monastery and kill the monks. By some miracle only four monks – Tie Zhu, Tie Xie, Tie Bing, and Tie Banescaped. After long and dangerous wandering Tie Zhu reached the village of Jindouyang in the district of Fuan, the province of Fujian, populated by the SHE nationality. The village was situated in a remote mountain region in the North-East of the Fujian province; the villagers were kind and generous people. When they saw the ragged and emaciated Tie Zhu, they felt compassion to him. Tie Zhu who took the name Pan settled in the village.