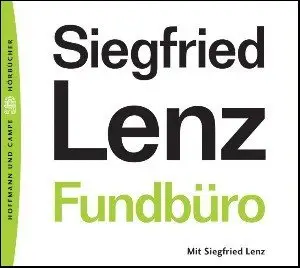 Siegfried Lenz - Fundbüro
Genre: Roman | Time: 07:26:42 | Publisher: Hoffmann und Campe | ISBN: 3455303374 | 10. Februar 2003
Language: Deutsch | Audiobook in MP3 / 128 kbps | 421.83 MB
Beschreibung:
Henry Neff ist auf der Suche nach der verlorenen Zeit. Nicht nach der seiner eigenen Historie: Denn die hat der inzwischen 24-jährige Sachbearbeiter mit der Aufgabe seines enervierenden Jobs als Zugbegleiter an den Nagel eines Hamburger Fundbüros -seiner neuen Arbeitsstätte- gehängt. Zwischen Regenschirmen, Aktentaschen, Rucksäcken und Bücherbergen übt er sich nun, abseits "von allem Gerenne und Getöse" der Welt da draußen, in Muße, Liebe und Geduld. Im Zwischenreich verlorener Dinge will Neff sich gänzlich im Augenblick verlieren und die im Trubel des Lebens abhanden gekommene Ruhe wiederfinden.
Eine Weile geht das gut, bis – ja: bis die braune Vergangenheit in Gestalt einiger Neonazis und Ausländerfeinde in die Gegenwart hinüberschwappt. Und als dann auch noch Bahn-Reformen den Arbeitsplatz eines Kollegen bedrohen, erkennt Neff, dass man "manchmal auch zuschlagen" muss. Bis dahin aber ist viel geruhsame Erzählzeit verflossen, die den liebenswerten Helden mit allerlei Lebensschicksalen und Handlungssträngen (darunter auch kriminalistischen) konfrontiert: "An jeder Fundsache hängt etwas", heißt es im Roman, "du glaubst nicht, was da manchmal zum Vorschein kommt." Beizeiten entwickelt Neff sogar ganz eigenwillige Methoden, um rechtmäßige von unrechtmäßigen Besitzern zu scheiden. So lässt er eine Aktrice aus dem verlorenen Textbuch rezitieren. Und als ein Mann behauptet, jener Messerwerfer zu sein, dem das gefundene Wurfset aus Toledo im Regal gehöre, stellt Neff sich kurzerhand an die Tür und lässt den Artisten seine Kunst beweisen. An solchen zweischneidig-komischen Stellen (immerhin droht dem Erprober bei Falschaussage akuter Daseinsverlust) ist Lenz' neuer Roman vollkommen geglückt.
So erzählt Lenz vom Leid des Verlierens, aber auch vom beglückenden "Mysterium des Wiederfindens" in einer hektischen Gesellschaft, in der das Fundbüro (zumindest hin und wieder) als insularer Ruhepol der Glückseeligen erscheint. Auch wenn sich wohl niemand in dem bisweilen leider etwas langatmigen Schmöker und seiner einfachen Sprache verlieren wird, so gibt es doch so manches literarisch wertvolle Kleinod im skurrilen Fundsachen-Repertoire des Autors zu entdecken. Wer Muße hat und auf der Suche ist nach gut erzählter Literatur ohne komplexe Schnörkel, der wird hier eine ganze Menge davon wiederfinden.
Download Siegfried Lenz - Fundbüro:
filesonic.com
Pass: avaxhome.ws
Mehr Audiobucher von mir findet Ihr in
My Blog
If you'll find that my links are dead please let me know through the Private Messages.
Please DO NOT MIRROR