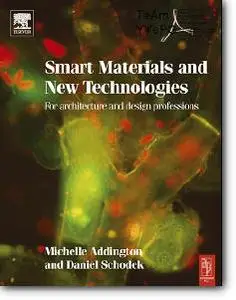 Michelle Addington, Daniel L. Schodek, «Smart Materials and Technologies in Architecture»
Architectural Press | ISBN 0750662255 | 2004 Year | PDF | 3,82 Mb | 256 Pages
Today, architects and designers are beginning to look toward developments in new "smart" or "intelligent" materials and technologies for solutions to long-standing problems in building design. However, these new materials have so far been applied in a diverse but largely idiosyncratic nature, because relatively few architects have access to information about the types or properties of these new materials or technologies.
Two of the leading experts in this field - Addington and Schodek - have solved this problem by incorporating all the relevant information of all the latest technologies available to architects and designers in this one volume. They present materials by describing their fundamental characteristics, and go on to identify and suggest how these same characteristics can be exploited by professionals to achieve their design goals. Here, the wealth of technical understanding already available in the materials science and engineering literature is at last made accessible to a design audience.

* A unique text that outlines the topic of smart materials from a design perspective
* Learn about the latest research and practice of using smart materials and gain a better understanding on how to utilize them in architectural design
* Benefit from the knowledge and insight of this experienced and respected author team.
Password
:
www.AvaxHome.ru
Download from Rapidshare
Бонус | Bonus
My other uploaded eBooks (1900+) - links and descriptions
Другие книги, закаченные мной (более 1900) - ссылки и библиографические данные
New!
version 6 (May 03 2006) [1,1 Mb] | Format: txt
Download eBooks list from Mytempdir
Download eBooks list from Rapidshare
If you need a book from the list but the link doesn't work
anymore, send me a message. Also write me about dead links in my other posts, please.
Если Вам необходима книга из списка, а ссылка на нее не работает, то отправьте мне сообщение. Также пожалуйста отправляйте мне сообщения о нерабочих ссылках в моих постах.