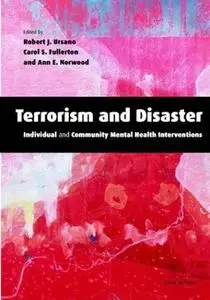 Robert J. Ursano, Carol S. Fullerton and Ann E. Norwood,
«Terrorism and Disaster: Individual and Community Mental Health Interventions»
Cambridge University Press | ISBN: 0521533457 | June 30, 2003 | PDF | 364 Pages | 1,9 MB
"This is a comprehensive and authoritative text packed with challenging observations and up to date experience, facts and opinions. A textbook such as this is well timed and will provide a useful source of information for any mental health professional involved in the response to traumatic situations." Alastair Hull, Psychological Medicine
"This is an essential resource for professionals seeking authoritative insight into individual and community mental health interventions after acts of terrorism and disaster. The book expands upon and updates the authors' previous book, specifically and necessarily focusing on the disaster of terrorism. The importance of a resource covering this topic cannot be overestimated. The authors have once again put together one of the most scholarly, pertinent, and useful books in the field."
http://rapidshare.com/files/2189310/0521533457.rar