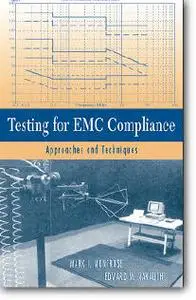 Mark I. Montrose, Edward M. Nakauchi, «Testing for EMC Compliance : Approaches and Techniques»
Wiley-IEEE Press | ISBN 047143308X | 2004 Year | PDF | 10,73 Mb | 460 Pages
The Keep It Simple (KISS) philosophy is the primary focus of this book. It is written in very simple language with minimal math, as a compilation of helpful EMI troubleshooting hints. Its light-hearted tone is at odds with the extreme seriousness of most engineering reference works that become boring after a few pages. This text tells engineers what to do and how to do it. Only a basic knowledge of math, electronics, and a basic understanding of EMI/EMC are necessary to understand the concepts and circuits described.
Once EMC troubleshooting is demystified, readers learn there are quick and simple techniques to solve complicated problems a key aspect of this book. Simple and inexpensive methods to resolve EMI issues are discussed to help generate unique ideas and methods for developing additional diagnostic tools and measurement procedures. An appendix on how to build probes is included. It can be a fun activity, even humorous at times with bizarre techniques (i.e., the sticky finger probe).
Password
:
www.AvaxHome.ru
Download from Rapidshare
Бонус | Bonus
My other uploaded eBooks (1900+) - links and descriptions
Другие книги, закаченные мной (более 1900) - ссылки и библиографические данные
New!
version 6 (May 03 2006) [1,1 Mb] | Format: txt
Download eBooks list from Mytempdir
Download eBooks list from Rapidshare
If you need a book from the list but the link doesn't work
anymore, send me a message. Also write me about dead links in my other posts, please.
Если Вам необходима книга из списка, а ссылка на нее не работает, то отправьте мне сообщение. Также пожалуйста отправляйте мне сообщения о нерабочих ссылках в моих постах.