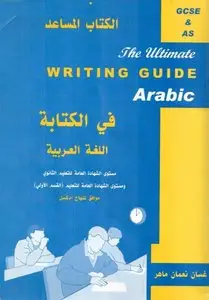 The Ultimate Writing Guide Arabic: GCSE & AS
الــكــتاب المساعــد فـي كــتــابة اللغة العربية
Publisher: MM Books | 2003 | ISBN: N/A | ASIN: B001MLZS4O | English/Arabic | PDF | 176 pages | 4.19 Mb
- The writing topics according to the areas of activities of the Edexcel syllabus and specification.
- 129 ready-written pieces, suitable for the four GCSE writing examination questions.
- 16 ready-written pieces, suitable for the AS writing examination question.
- Brief and easy coverage of the Arabic grammar topics.
- Detailed advice on punctuation, style and handwriting.
- Clear presentation of the best ways of planning writing pieces, with examples, implementing this in many of the ready-written pieces.
- English footnotes and various exercises (the latter for the extended writing only).