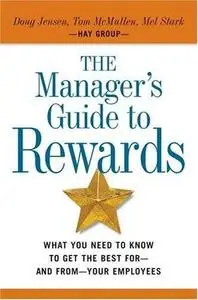 Doug Jensen, Tom McMullen, Mel Stark, «The Manager's Guide to Rewards: What You Need to Know to Get the Best For-and From-your Employees»
AMACOM | ISBN 0814408869 |
2007 (Not Released Yet)
| PDF | 241 Pages | 3,90 Mb (Uncompressed)
A manager who understands the ins and outs of his company's compensation system is more likely to be able to retain his best people, keep them motivated, and ensure that they continue to produce outstanding results. Written by compensation experts at the Hay Group–one of the most respected consulting firms in the world–
The Manager's Guide to Rewards
reveals how to:
motivate and keep the best people despite company pay limits
get employees to understand the connection between what they achieve and the bonus or salary increases they are paid
use base salary, short and long-term incentives, benefits, perks, and non-monetary rewards more effectively
Decisions about rewards are not just in the hands of HR professionals. This important book shows that managers have more power than they may think to use rewards creatively and keep their most valuable employees happy and productive.
Download Here
Password:
spiderman
It is my original post for the community. If U wish me to continue posting more latest ebooks for the members, please don't post mirrors, as a recognition of my efforts for you. Thanks!!!